What Happened to the Beyond Meat and Oatly Stocks and What You Need To Know Before Your Company IPOs
Insights from a Good Food Conference roundtable: what happened to the Beyond Meat and Oatly stocks and what you need to know before your company IPOs….
Insights from a Good Food Conference roundtable: what happened to the Beyond Meat and Oatly stocks and what you need to know before your company IPOs.
At the Good Food Conference last week, a roundtable discussion took place on how the public markets inform the private markets and what has happened to the Beyond Meat and Oatly stocks. 
So much has changed since the heyday of the plant-based foods boom of 2019, 2020, and the first half of 2021.  The public markets took a downturn in the last half of 2021, and this, in turn, caused a tightening in venture capital by 2022 as the private markets follow the public markets usually by around six months. It takes a while for the trickle-down of the public marketing tightening to impact start-ups, but this was certainly the case by 2022.  
In turn, the sentiment changed toward leaders like Beyond Meat and Oatly, and here are some of the reasons why: 

In the case of both Beyond Meat and Oatly, the valuations were more aligned with tech companies than consumer staples/food companies.  Tech companies trade at higher multiples but also have faster growth trends.  This is not the case for food companies which tend to have slower growth and 2x-3x multiples.   The markets corrected this valuation for the two companies, bringing the stock prices significantly lower. 

When the markets were robust, public investors and analysts were seeking growth and growth potential. As the markets turned, both Beyond Meat and Oatly were judged by their earnings or lack thereof.  Without earnings, it is difficult for analysts to properly evaluate a company, and it leaves them lacking confidence in the firms.  This leads to a downgrade of the stocks.
Both Beyond Meat and Oatly have since tried to tighten their belts financially, with layoffs, in the case of Beyond Meat, and leasing out a production facility to not carry the costs for Oatly. Still, both companies have yet to become profitable. This also leaves analysts skeptical. 

Lastly, analysts look for the companies to hit their predicted numbers, such as growth, revenue, and profitability, every quarter during the earnings calls.  They aren't interested in dreams of changing the world, they just want to CEO to hit the numbers they predict for each quarter.  When a company falls short of its goals every quarter, it again shakes the confidence of Wall Street analysts, often leading to a downgrade of a stock.  So, if a CEO predicts profitability for the next quarter or the following quarter, when the next earnings call takes place, they should be able to say that they hit the predicted numbers. If not, the stock will most likely trend downward. 
Luckily, Beyond Meat and Oatly are not the only plant-based innovation companies in the public markets.  There are almost 120 companies in the public market, and the VegTech Invest research team has identified more than 35 that are financially sound, profitable, and growing.  This is meaningful for the viability of the sector, and Beyond Meat and Oatly don't have to carry the torch alone.  Furthermore, the sector depends on other larger, older companies producing more products, having deeper pockets and established distribution channels. Companies like Givaudan, ABinBev, and Ingredion are all public companies critical to the growth of the industry and are doing well.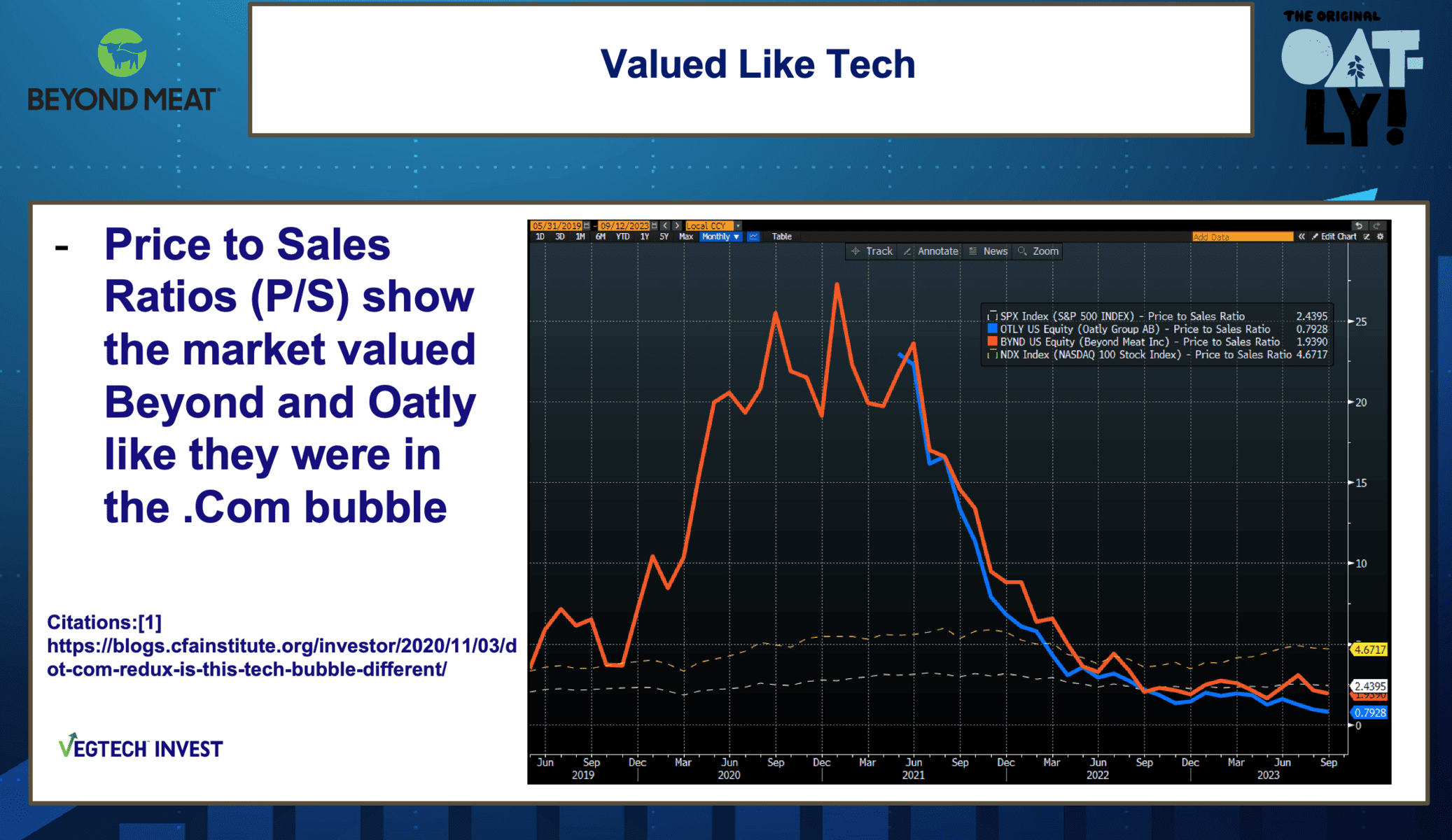 In addition, the public markets offer a lot for the investor that private market investing can't offer.  Investing in start-ups is very risky, as most start-ups die, as we are experiencing now.  Also, investing in a new company is not liquid.  This means that if you put your money in a start-up, you can't get it out unless there is an exit, which is very rare and takes a very long time, usually 6-10 years.  In the public markets, you can buy and sell as you wish.  This flexibility is what also makes it less risky, as you can get your money back. Lastly, the public markets offer the opportunity to invest in ETFs, which can have anywhere from 20 – over 100 companies in one fund.  This diversification again lowers the investor's risk, and many other plant-based companies besides Beyond Meat and Oatly are doing well in the public markets. 
This downturn of Beyond Meat and Oatly has been extremely painful to watch.  So, what should a company focus on before it IPOs?  
Either being profitable or being close to profitability should be a prerequisite before heading to an IPO. 

Know your business well enough to successfully predict where you will be one or two quarters out and hit those numbers.

Don't focus on the dream (at least for Wall Street analysts), focus on the numbers, including growth trajectory and profitability. 
These insights were provided by Elysabeth Alfano, the CEO of VegTech Invest, advisor to the Plant-based Innovation & Climate ETF, EATV. She is also the managing partner of Plant-Powered Consulting and the host of the Plant-based Business Hour.
If you are interested in learning more about public markets investing, you can attend a free Zoom webinar on Impact Investing for Vegan on Wednesday, September 27th at 1:30p ET. 
plant-based
beyond meat
ingredion
oatly
meat
investing
ipo
investors
stocks
etf
venture capital
fund
industry