Meatless Farm is "Back for Good", Returning to Supermarkets with National Comeback Campaign & New Product Launch
UK brand Meatless Farm, which was acquired by VFC this June following turbulent times, returns to Tesco shelves this week, additionally relaunching into…
UK brand Meatless Farm, which was acquired by VFC this June following turbulent times, returns to Tesco shelves this week, additionally relaunching into Sainsbury's and Ocado, along with an extension to its filled pasta range and a national OOH comeback campaign.
"We're all delighted to let everyone know that Meatless Farm is back for good"
The brand's economic struggles earlier this year, during which administrators were appointed, generated prolific media attention, as such this OOH and digital advertising campaign intends to raise awareness that the Meatless Farm is back in retail for consumers. The message 'For the Tryers,' invites the increasing number of UK meat-reducers to 'give it a try,' further enticing them to purchase once again with a QR code generating a £2 discount and a Greenjinn money-off coupon.
The campaign will run from the 25th September to the 22nd October across the London underground system, digital ad signage, streethubs, and billboards, and MF says it believes the messaging will reach more than 8 million consumers.
Relaunch and new pasta
Since the VFC acquisition this summer whereby VFC's CEO Dave Sparrow was instated as CEO of MF, the new management has focused its efforts on quickly returning to both retail and food service. Wasting no time at all, in August various products relaunched in Asda, comprising the Plant-based Mince; Chicken Breasts; Quarter Pounder Burgers; the filled pasta products Red Wine & Porcini Mushroom Girasole and No-Duja Ravioli; as well as NPD the Pork & Apple Sausage.
Speaking at the time, Dave Sparrow explained that "Getting Meatless Farm back on-shelf for our valued consumers is our number one priority and we have been working tirelessly with our partners and customers to make this happen."
This week, MF's flagship product, Plant-Based Mince, returns to Tesco, as well as the pasta range which is extended by a new Chicken and Bacon Tortellini SKU. The Chickenless Roast Joint is set to follow on 25th September.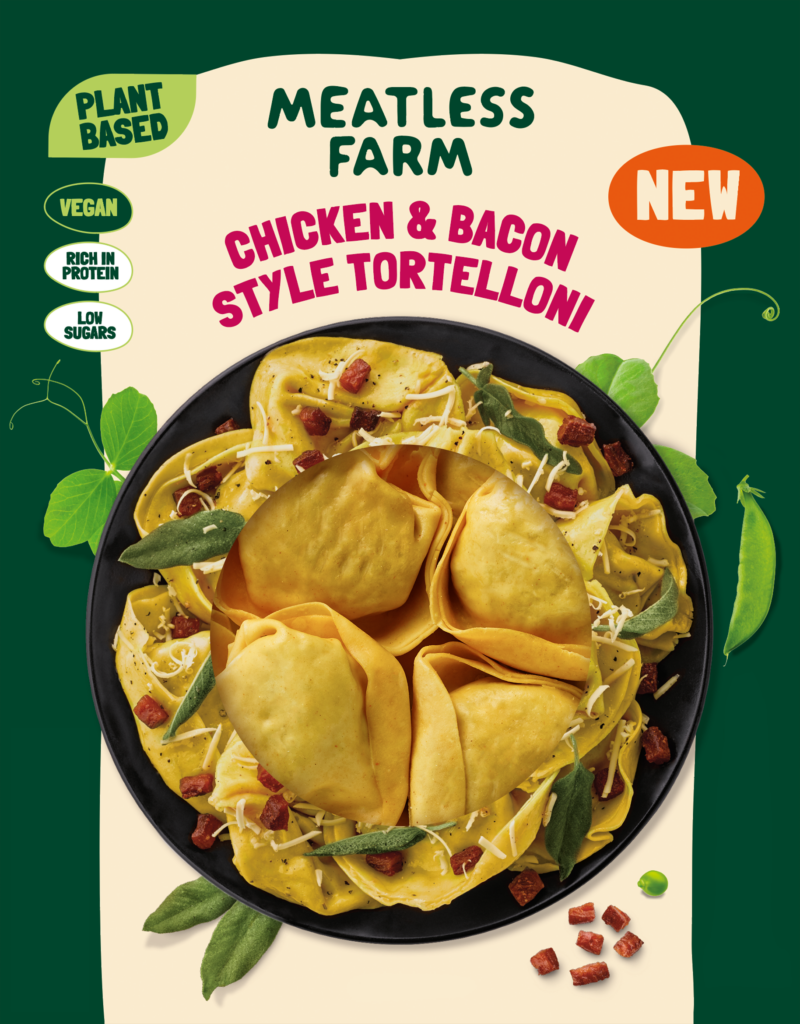 The products landing at Tesco this week comprise: Meatless Farm Plant-Based Mince; Meatless Farm Chickenless Roast Joint; Meatless Farm Beef, Red Wine & Porcini Mushroom Girasole; Meatless Farm No-Duja Ravioli; and the new addition Meatless Farm Chicken and Bacon Pasta.
Dave Sparrow says of the relaunch and comeback campaign: "Our customers and consumers are our number one priority, and we are delighted to deliver on our commitment of getting the range back on-shelf for them, as well as launching NPD that continues to stretch the brand into different consumption occasions.
"It's fantastic to see the brand return to retail and we're all delighted to let everyone know that Meatless Farm is back for good via our national advertising campaign, encouraging consumers to make simple switches and give the brand a try."
Visit: meatlessfarm.com
plant-based
the meatless farm
meatless farm
meat
chicken
beef
pork
burgers
sausage