Squeaky Bean Enters Yet Another New Category with Protein Pot Launch
British alt meat brand Squeaky Bean has expanded into the ready meal category with the launch of two new protein pots. The meals are: Teriyaki Duck Protein…
British alt meat brand Squeaky Bean has expanded into the ready meal category with the launch of two new protein pots.
The meals are:
Teriyaki Duck Protein Pot — Plant-based duck pieces with teriyaki sauce and piquillo peppers. 
Beef Ragu Protein Pot — Beef-style pieces made from wheat and pea protein, covered in ragu sauce and topped with Applewood smoked vegan cheese.
Both pots can either be eaten alone or combined with carbohydrates for a more filling meal. They can be prepared in the microwave in just one minute.
Additionally, Squeaky Bean is expanding its range of chicken-style pieces with two new products:
Chargrilled Jerk Style Mini Fillets — Smoky fillets with a seasoning containing cayenne, pimento, chilli, garlic, ginger, and nutmeg.

Sweet Chilli Chicken Style Pieces — Wheat and pea-based chicken-style pieces marinated in sweet chilli sauce.
Continued innovation
While many businesses, both plant-based and conventional, are struggling in the current economic climate, Squeaky Bean continues to thrive, launching several new products in 2023 alone. The company introduced its first frozen range, featuring chicken-style nuggets, dippers, and poppers, in March.
Just a month later, Squeaky Bean launched snack-size sausage rolls with bacon-style pieces, followed by crumbed ham slices in May. At the end of last month, the brand entered the plant-based seafood category with the launch of tuna flakes and smoked salmon slices.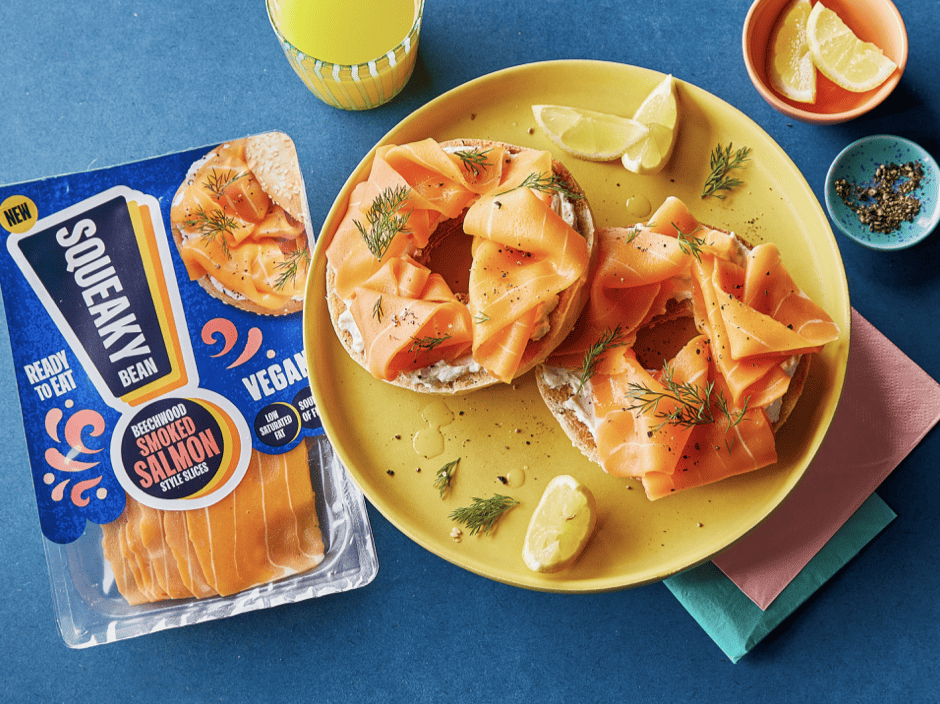 This continued innovation may be responsible for Squeaky Bean's success, along with its high regard amongst the UK vegan community partly owing to the huge popularity of its pastrami. The company has developed several meat alternatives that are not widely offered by other UK brands, such as cooking chorizo, the famed New York City-inspired pastrami, and chicken-style folded flatbreads.
"At Squeaky Bean, we want to make incorporating great-tasting plant-based meals into your everyday diet as quick and effortless as possible," said Becky Youseman, marketing controller at Squeaky Bean. "Seeing a gap in the market for ready meals containing meat alternative proteins, we saw the opportunity to innovate by releasing two new protein pots packed with exciting flavours. In entering the ready-meal category, we chose a popular beef ragu product to replicate the taste of a consumer favourite, as well as an exciting teriyaki duck, with Asian flavours being popular amongst UK shoppers." 
alternative proteins
meat alternative
alt meat
meat
chicken
salmon
seafood
beef
cheese
sausage
protein
plant-based
alternative
alt