Overcoming Challenges to Optimize Plant-Based Cheese Alternatives
In this guest post, Evandro Oliveira de Souza, Senior Global Business Unit Director Cheese at DSM, offers his unique insights into the vegan cheese category,…
In this guest post, Evandro Oliveira de Souza, Senior Global Business Unit Director Cheese at DSM, offers his unique insights into the vegan cheese category, discussing its challenges and how they can be overcome.
Plant-based milk and meat alternatives have proved hugely popular around the world, but plant-based cheese is yet to enjoy widespread, global appeal as formulation challenges have prevented brands from achieving the full sensory experience that consumers desire. When flexitarian consumers can have the 'real deal' anytime they wish, plant-based cheese alternatives need to accurately mimic the robust, complex flavors and distinctive, comforting textures that make cheese a classic comfort food.
A flexitarian future
The global market for plant-based dairy alternatives reached a remarkable €18 billion in 2022.[1] Up-and-coming categories, like vegan cheese, are contributing to the category's growth.[2]
While the historical perception may be of a niche product for those requiring a vegan or lactose-free diet, the demand for products like plant-based cheese is increasingly coming from people who have adopted flexitarian diets, as opposed to entirely cutting out traditional dairy products. Put simply, the driving force behind the current boom in plant-based dairy alternatives are the consumers who want to enjoy plant-based and dairy products side by side.
"Consumers want to add more like-for-like dairy alternatives to their diet"
Around 30% of consumers in major markets identify as flexitarian[3] and 48% of global consumers have made the decision to moderate their dairy consumption.[4] Consumers want to add more like-for-like dairy alternatives to their diets for a number of different reasons. These include the perception that plant-based products are better for the environment and a simple curiosity to try new products on the market.
The challenges of plant-based products
The growth potential in the plant-based cheese category is clear. However, the route to increasing the consumption of these alternatives has not always been straightforward.
Consumers expect plant-based counterparts to reflect the same authentic flavor and texture that is so familiar in traditional cheeses. Consumers want plant-based cheese that can be directly substituted into familiar recipes and will behave in the same way as regular dairy-based products. This has previously proved challenging.
Historically, there has been a lack of the distinctive creamy and umami flavor that traditional cheese delivers, with the taste of many products also marred by vegetal or beany off-flavors. Consumers have also noted issues around poor mouthfeel – both in firm, sliceable products, which have tended to lack the characteristic "bite" of dairy cheese or the meltability and stretchiness of substitutions for pizza topping or in sauces.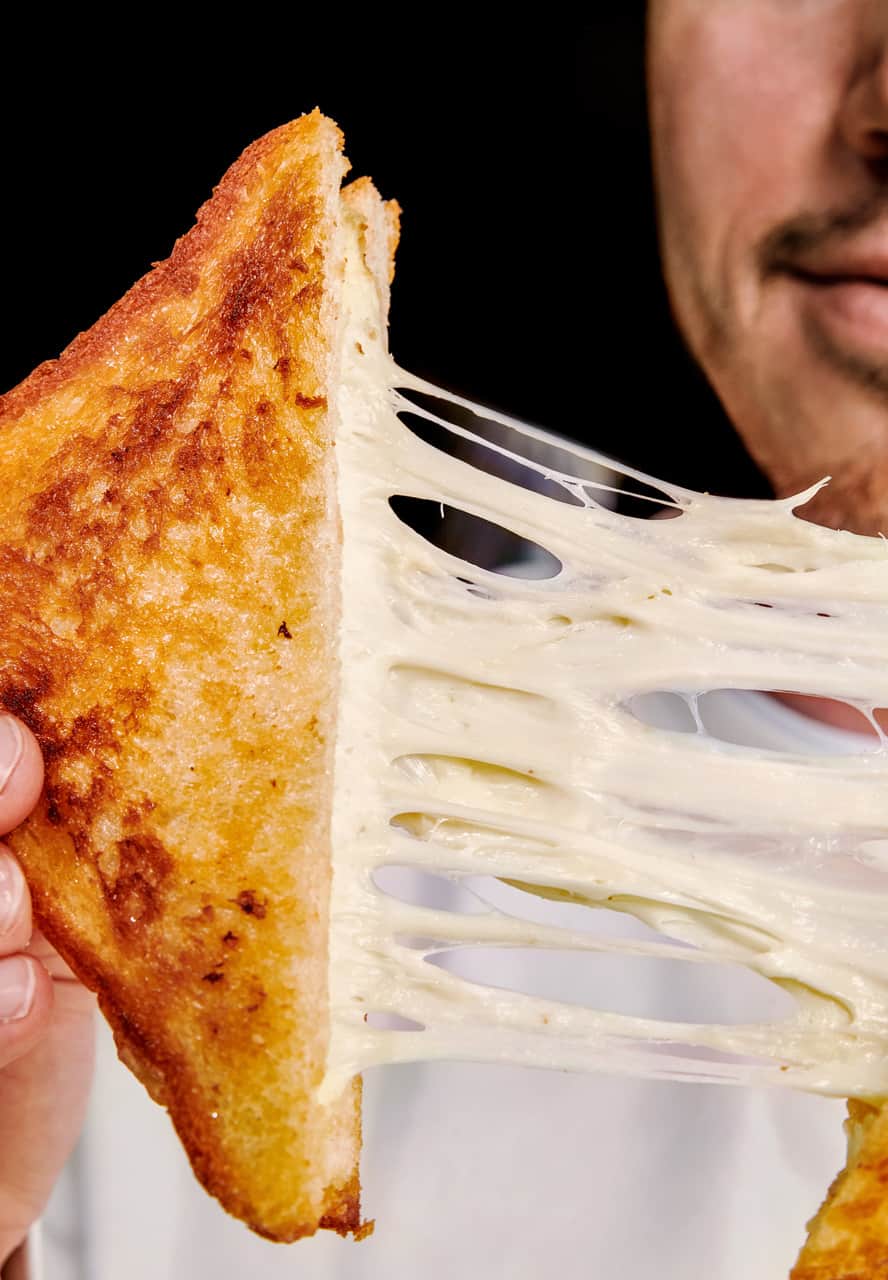 New solutions for a new way of eating
DSM is helping manufacturers produce the next generation of plant-based cheeses. This is thanks to new innovations in plant-based cheese alternatives that are enabling ever-more authentic creations that will tempt more consumers to add plant-based cheese to their diets.
First of all – flavor is king for consumers. Manufacturers need to create authentic cheese aromas from the first smell and intense and unique dairy flavors through to the last bite. The good news is, taste complexity can be layered through a series of three steps. To start, masking agents are used to cover any off-notes that can overpower traditional cheese flavors and can be a common feature in popular bases for plant-based cheese. Next, yeast extracts build a foundation of savory notes. Once the savory base flavor is complete, specific plant-based lactic and cheese top notes complete the desired robust, complex, dairy-like flavor. Together, these yeast extracts, masking agents, and dairy type notes provide the product with a signature savory taste direction and dairy type flavor – meaning less salt is required in the formulation.
The next consideration for manufacturers is texture. This is where gellan gums, hydrocolloids, pectins and blends can shine. The functional properties of gellan gum help producers achieve desirable textures such as the flexibility and sliceability of young Gouda, for example. Following texture, the nutritional value of plant-based cheese is a rising consumer priority.
While cheese is more likely to be considered a comfort food rather than a health food, it's worth noting that plant-based options often lack the same levels of vitamins, minerals and protein when compared to dairy-based cheese. Nutritional premix blends of vitamins and minerals help bridge the gap, allowing producers to include micronutrients such as vitamins A, B2 and B12 as well as calcium, iodine, selenium and zinc – all nutrients that consumers expect to find in traditional dairy products. 
And finally, crafting that distinct cheese experience starts with how products look on a supermarket shelf. Beta-carotene solutions can add an authentic color to plant-based cheeses and can recreate a variety of colors from yellow to orange, depending on the type of cheese being replicated.
---
[1] Euromonitor, 2022
[2] Grand View Research – Vegan Cheese Market Size, Share & Trends Analysis Report By Product (Mozzarella, Ricotta, Cheddar, Parmesan, Cream Cheese), By Source (Cashew, Soy), By End Use (B2C, B2B), By Region, And Segment Forecasts, 2022 – 2030
[3] Euromonitor, Driving Forces Behind Plant-based Diets, June 2019
[4] FMCG Gurus, November 2021
dairy products
meat
cheese
milk
cream
soy
protein
plant-based