One Planet Pizza: "Committing Ourselves to Being the Planet's Most Sustainable Pizza Brand"
One Planet Pizza (OPP) is a plant-based pizza brand from the UK that has gone from strength to strength since its launch in 2016. The company's growth…
One Planet Pizza (OPP) is a plant-based pizza brand from the UK that has gone from strength to strength since its launch in 2016. The company's growth has been particularly rapid over the past eighteen months, including a successful crowdfunding campaign in February 2022 where 76% of the target sum was raised on the first day.
Two months later, OPP secured its first major supermarket listing at Asda as part of the chain's incubator program. The trial was so successful that the brand's pizza is now available at 400 Asda stores UK-wide.
OPP has also begun expanding internationally; the brand launched in Sweden in June 2022 and has also entered several other European markets, such as France, Greece, and Denmark. We caught up with founders Mike and Joe Hill to find out more.
Please give us an update — what have you been up to since we spoke last year?
We've had one heck of a busy year over here so far! We've moved production, launched our new and improved range of frozen pizzas, and introduced a brand spanking new flavour – the Spicy Tex Mex.
Our team is now fully remote working (progressive, right?) and we're spending a lot more time in the Netherlands to help grow the business over there and across Europe.
We've also partnered with Dutch plant-based cheese brand Willicroft. Their incredible 'Young Dutch' Gouda is now used on each and every one of our pizzas and is meltier, tastier, and more realistic than ever. It's also healthier as they incorporate white beans in their recipe which is just another win. They even source their beans from a local Dutch farm they work closely with.
Expect more collaborations between our two mission-aligned brands in the future!     
You recently moved your production site to the Netherlands. Tell us about this move and what it means for the brand – how will this decision affect OPP distribution across Europe?
That's right! This was a huge decision for us and it was certainly a tough choice to make, leaving behind our hometown, Norwich, and closing down our original pizza factory here.
However, with increasing costs and the limitations faced by Brexit, it was the best move to make for the company. We now have a much smaller senior team and have managed to improve our capacity tenfold whilst, most importantly, offering a much better range of frozen pizzas.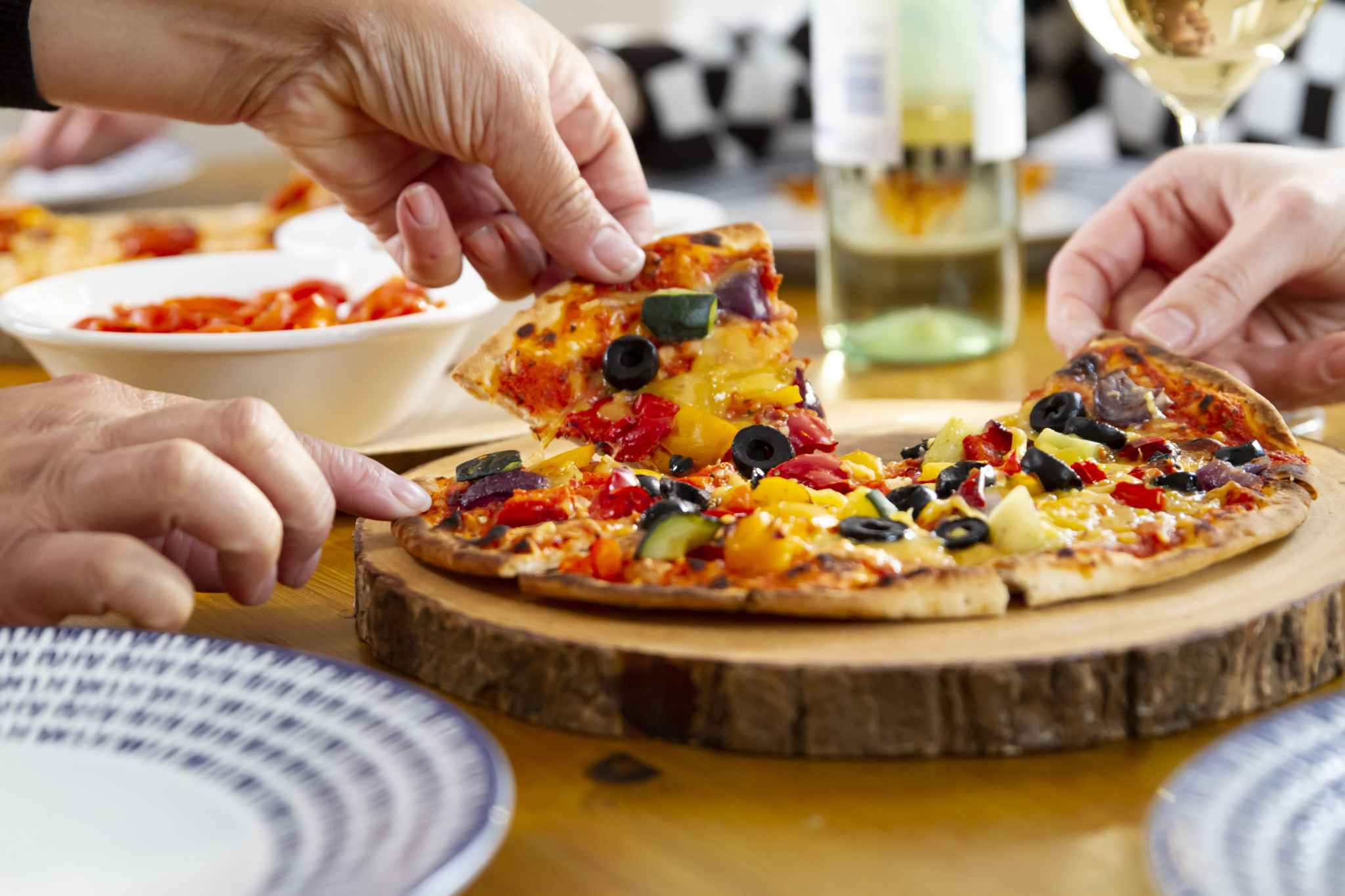 There are huge opportunities across Europe in countries like France, Germany, and the Netherlands, where vegan pizzas are under-indexing. We're now better positioned to distribute across the EU while still supplying our UK customers, such as Asda and Suma.
Those Dutch sure know a thing or two about production lines and efficiencies. They're not too bad at making vegan pizzas either, it turns out! Their sourdough, wood-fired base is out of this world and allows us to offer a much more premium range of pizzas at an affordable price.    
OPP recently launched the first sourdough wood-fired vegan frozen pizza in the UK. Can you tell us more about the launch and the pizza's sales performance so far?
Moving our production out to a much larger pizza manufacturer allowed us to remodel our range and make some improvements to keep well ahead of the competition. I really can't speak highly enough about our new sourdough base – it's a total game-changer for the vegan pizza category and we've never tasted anything like it before.
"We aim to create a strong case study that UK retailers won't be able to ignore."
But we're obviously biased. We let the sales speak for themselves; our new range is performing 2x better than the previous range and this number is even higher in Asda. Without saying too much, we're pretty confident our Peppernomi Pizza is currently performing well above average for frozen vegan pizzas in UK supermarkets… The proof is in the pizza.
This month, OPP will launch in the Netherlands and Iceland. What is your strategy to succeed in these two countries?
We're focusing on working with the right distributors and the best retailers for both countries. That doesn't always mean the biggest. By this, I mean choosing partners who truly believe in our mission to help remove animals from the food chain with great-tasting plant-based alternatives.
It's tempting to think that more is better, launching as many SKUs as you can or going for as much distribution as possible with higher store numbers. We're far more excited about building long-term mutually beneficial partnerships in both countries. Focusing on the right retailers and making sure we have the capacity to support them with effective activation like in-store sampling and long-term influencer partnerships.
"Sustainability is and always has been at the very core of what we do"
We're working on a specific launch party in Amsterdam to support the Dutch listing to connect with both mission-aligned businesses and consumers alike. You can't beat a good old-fashioned in-person event. Working closely with relevant influencers and media partners will be a focus in both countries. But sampling both in-store and out in the streets will be our most effective way of supporting these listings and driving the trial of our new range.
You are focusing on getting B Corp certification, which will prove that your production meets social sustainability and environmental performance standards. How is this process going and what does sustainability mean to OPP?
Sustainability is and always has been at the very core of what we do over here. I mean, it's baked into our name! We've always been hyper-aware of greenwashing, seeing so many apparently sustainable brands fall short of this and consequently causing huge damage to their integrity and to genuinely 'good' businesses out there.
Our planet-saving mission has always been tied to our commitment to being a 100% vegan brand. But we don't want to stop there. By the end of this year, we plan to start this process of certification to further commit ourselves to being the planet's most sustainable pizza brand. We hope this next step will hold us accountable and continue to raise the bar for other brands in our category.   
Are there any new products in the pipeline?
Having only just launched our brand new sourdough range and new Spicy Tex Mex flavour, we're not looking at any new products this year. However, in 2024 we plan to start exploring vegan sauces, soups, and ready meals, to discover any hidden opportunities within these categories. I'm personally most excited about moving into premium chilled pizzas next year, as we're aware that this space is desperately in need of a plant-powered shake-up.
What are the goals for OPP in the next five years?
As we enter a new chapter with our improved range and manufacturing partner, our goal now is to secure and continue to improve our performance with Asda. By continuing to build on this nationwide listing, we aim to create a strong case study that the other UK retailers won't be able to ignore.
We aim to secure at least one major retail listing in at least three European countries alongside our recent listing within the Netherlands.
As part of our overall mission to remove animals from the food chain, we also aim to innovate and expand into the chilled aisle, most likely with a premium chilled pizza range. But who knows what else we'll come up with in the meantime…
Overall, you can count on us to keep pushing plant-based pizzas out to mainstream consumers, educating and empowering as many people as possible, and helping them eat and live more sustainably.
To infinity and beyond
cheese
plant-based